"Ai's Love Letters" is a fanime by Mew3Aki of Youtube. "Ai's Love Letters" chronicles the story of Anzu and Chou, two Japanese high school students. When Anzu literally runs into Chou, she sets herself up for what has become the fanime community's favorite slice-of-life rom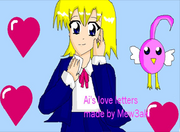 ance story. After the run in with Chou, Anzu arrives at school tardy but with a surprise in her shoe locker: a love letter! The anonymous sender writes to Anzu, head-over-heels in love with her. However, he calls her "Ai" for he doesn't know her name. Though initially wary of the letters, Anzu soon falls for the mysterious boy who writes her enthusiastically near everyday... but will Anzu end up with her anonymous letter-writer? Or will another steal her heart?
"Ai's Love Letters" has no voice acting cast, and instead makes use of subtitles. The subtitles are in English, which is commendable as the creator is from Slovenia and does not speak English as a first language.
Major characters include Anzu and Chou, but also Anzu's sister Kasumi, Chou's sister Momo and Haruhi a would-be manga artist. Minor characters include Anzu's friends; her teacher and his family; Haruhi's ex-boyfriend; Megumi, Anzu's rebellious classmate; and Madoka Tsutsumi, a popular boy at school.