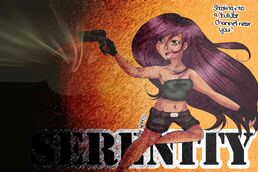 Ellygonwild is an American fanimator based in New York City, and is the creator of Serenity, an incomplete fanime/novella about the titular character and her life. With just over 400 subscribers, she is not really well known, but is an active member of the community despite. She is also one of the moderators of the new site Fanime Space.
Serenity follows Serenity Gibson, a high school student dealing with the unexpected deaths of her parents, and trying to go on with her life. Serenity isn't exactly a normal girl, however, having a rare genetic condition that makes her hair pink. But neither this nor the emotional trauma she recently suffered stop her from having lots of friends and love interests.
Serenity started as a novella, but has only 38 pages as of yet, and any updates or signs of it becoming an animated series have been few and far between. The novella can be read here, on her deviantART.
However, she has started a wikia page for Serenity, which can be seen here. She also made a trailer for Serenity, for if it were to be animated.