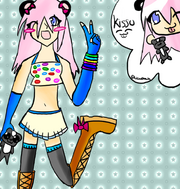 Kissuchan
is a 13 year old infamous Animator on Youtube.She Recently achived 100+ subscribers. Kissuchan started animating on January 16th, 2008. Her animations on her old account weren't really animations, but they were mostly pictures. Kissuchan only had 4 subscribers on her old account Secretsnowfall. Kissuchan has had Mani different fanimes that were delayed or cancelled.
   Examples of her cancelled fanimes are : Bunny Craze, Secret Snowfall, Kyoukousetsu, and Tekai Gesshoko. 

Kissuchan has been animating since she was 11, but really got into it when she was 12.
            Her most recent Fanime(and most successful) is Sayonara no Kashoku, and it seems to be a keeper. Kissuchan just recently had achieved 100+ subscribers on her account. She has yet to find the voice a

ctors and put out a first episode to her newly created Fanime(Sayonara no Kashoku).
== Did you know that.==
Edit
Kissuchan is known on DA as Kissuchan.
She can Speak English and is half way to fluent in Chinese
Kissuchans old account has less then half the friends she has now.
Kissuchan has 15 videos on her youtube account.